EX.PR.TT
The series external production TimeTunnel takes in content subjects of the temporally limited installation "TimeTunnel" and develops new, independent compositions. A starting point is the confrontation of photographic and digital picture. Photographic analog picture can still be called like a subjective cut of reality, the digital picture is, as information, dematerialized, and already a synthetic picture which can be manipulated arbitrarily. In this connection and, first of all, before the background of the development of ' virtual reality ' the question positions itself about reality and their perception.
The "technological transformed view", just as the « microscopic and orbital view », is shown with a zoom shot by different protection sizes. Photographic grain and electronic pixel are confronted – both dissolve the pictures in abstract forms and colors. Large-size prints translate this relation into the relationship between observer/distance/image. Zooms show body fragments alternating with monochrome colour surfaces which, taken in the picture, report to oversize pixel, pictures of absolute dissolution.
Under water taken body studies put the body in the center of the series. The condition in the water is originally and 'futuristic' at the same time: It reminds of the prenatal stage in the belly of the mother, just as the body movements of astronauts in the condition of simulated weightlessness as training for their stay in the space. In thinks of Marey and Muybridge these 'body studies' show the changed observation of space and therefore changed movement.
The 'look outwardly', stands towards to the 'look inwards': the visualization of the reality which allows to appear as a picture, about the retina in the brain a picture, and the virtual picture, which appears in the dream directly in the brain. The rapid eye movement as a reflex on the speed which can perceive only distraught pictures faces the rapid eye movement with closed eyes which appear with the dream phase REM (rapid eye movement) also as a reflex on these virtual picture worlds. "Eyephones" again steer the ' look outwardly ' in ' look inwards ', while they mount the screen directly with the eyes to replace for the real space with the virtual space.
Communication reduced on a phatische linguistic function, the word 'hello' represents by the rerum serves exclusively of the establishment of contact and the paradox of the " touch on distance " are contents of the work 'KON-TACT'. The word ' contact " means on one hand ' physical touch ', as well as ' human connection ' and, on the other hand, ' the touch by which a live connection is produced'.
 Complexe multi-pièces, format variable
1990 / 1997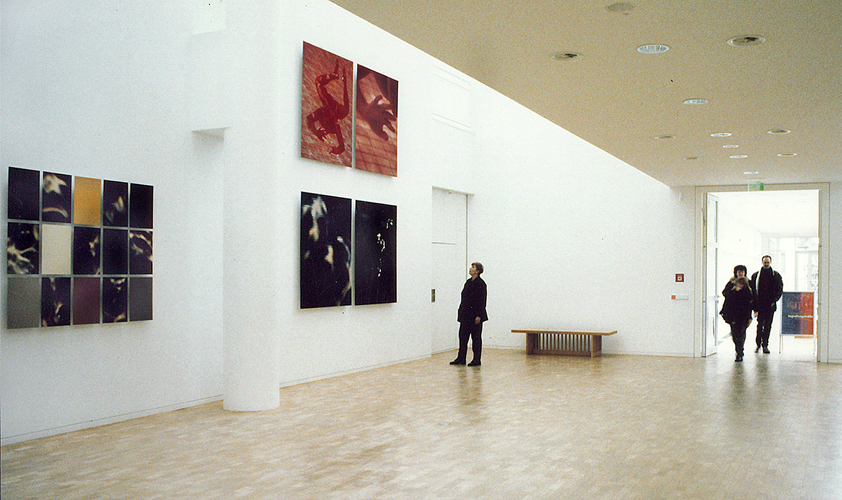 Museum Stadthaus Ulm, 1996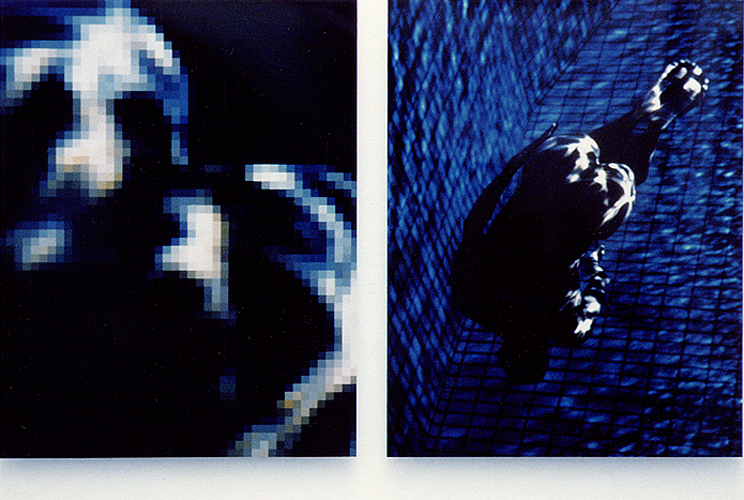 EXPRTT 3, 1990/1995, 120 x 155 cm / x2, tirages photographiques Cibachrome sur alucubond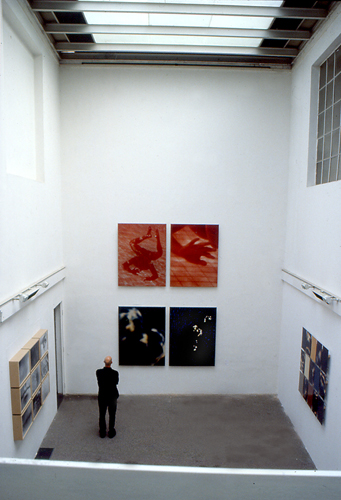 Badischer Kunstverein Karlsruhe, 1995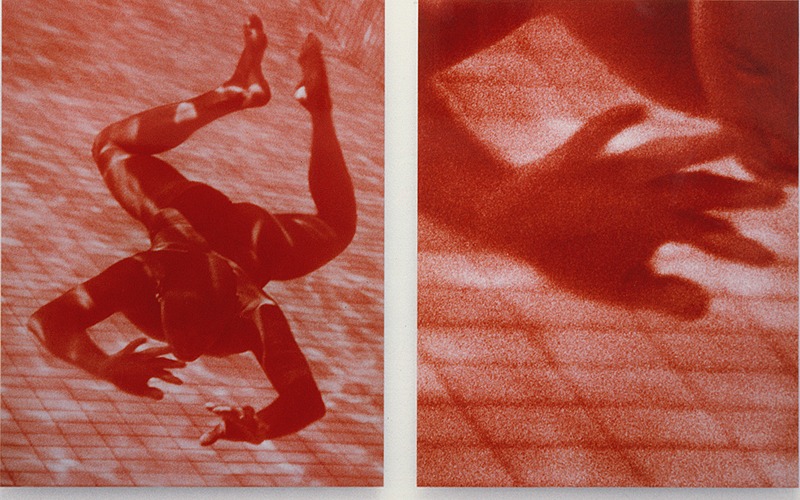 EXPRTT 4, 1990/1995, 120 x 155 cm / x2, tirages photographiques Cibachrome sur alucubond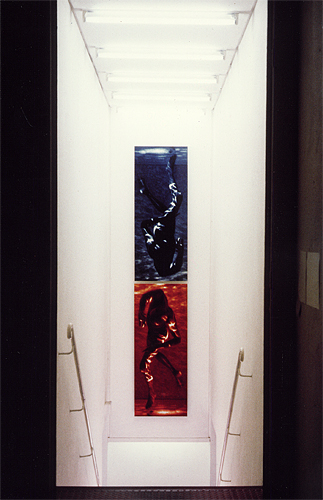 EXPRTT 1, Badischer Kunstverein Karlsruhe, 1995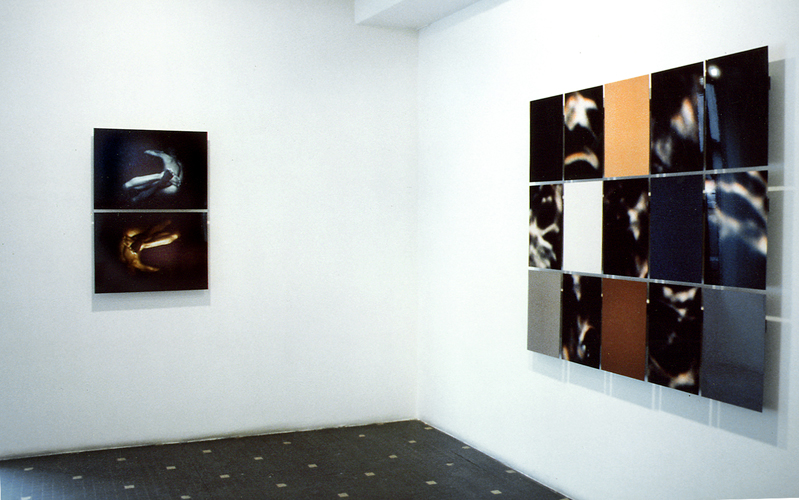 Galerie Natkin Berta, Paris, 1996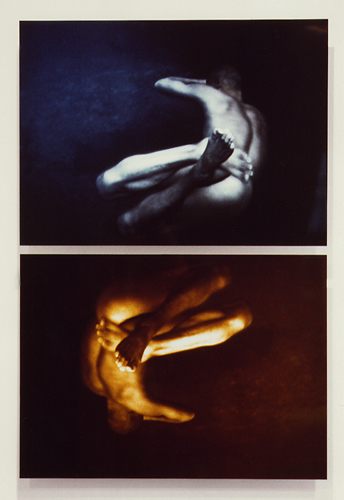 EXPRTT6, 50 X 70cm /x2, format total 70 x 105 cm, tirages photographiques Cibachrome sur alucubond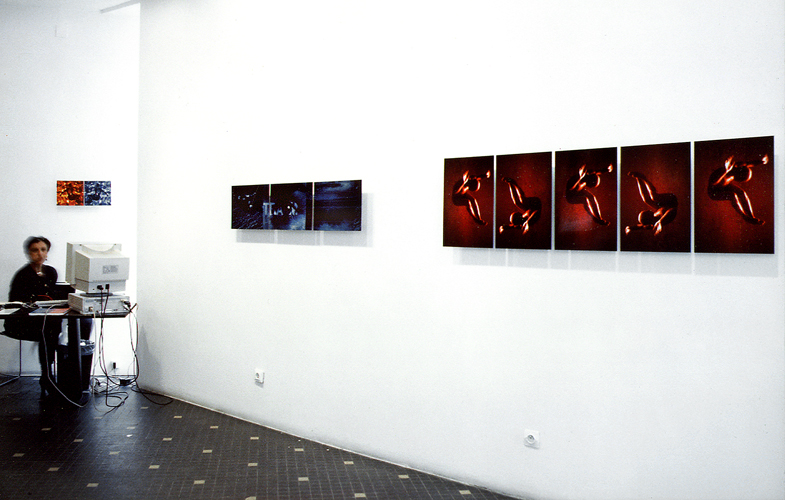 Galerie Natkin Berta, Paris, 1996

EXPRTT.5, 30 x 45 cm /x5, format total 160 x 45 cm, tirages photographiques Cibachrome sur alucubond

EXPRTT.9, 1990/1996, 39 x 29 cm / x 3, tirages photographiques Cibachrome sous Diasec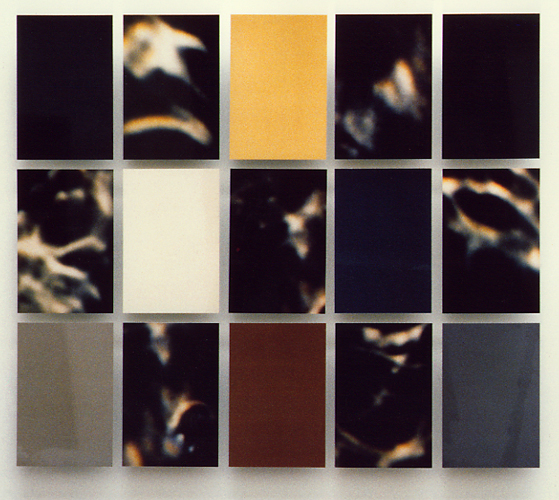 EXPRTT1, 30 x 45cm /x15, format total 141 x 162 cm, tirages photographiques Cibachrome sur alucubond

EXPRTT.10, 1990/1997, 39 x 29 cm / x 3, tirages photographiques Cibachrome sous Diasec