Realized with swiss-japanese dancer
Heidi Durning at Kyoto, Japan, 2010 / 2012
Kitsune,  the woman fox, is an Asian fabulous being, one of the feminine characters being a member of the series around the tales.
For C.G.Jung the tale expresses the psychological process of the collective unconscious which connects various cultures. In this sense I put my steps in the continuity of the European into the Asian tales. The video Kitsune uses another formal language as Emerentia, by being image in movement and at the same time – with its fixed centring – a kind of "tableau vivant".
The Japanese landscape represents as for a play set and scenographic image. In the depth on three plans it is only the woman-fox who browses the image with movements of dance, precise and slowed down. The mime is reduced by the stylized mask which reminds the theater " Nô ". At the beginning we see far away a small red character in front of a green fôret between rice fields, then, closer we perceive clearly the white mask, the black, long hair and the red kimono, then in the last appartition, very closedup, she turns outside the image. This tryptique cycle repeats ceaselessly in a loop.
The slow movement of the woman-fox and the almost "congealed" landscape, in which tree leaves move only from time to time – make reference to a dreamlike, " supernatural " and timeless scene.
Vidéo HD / « tableau vivant », 7,5min endless loop on flat screen 81cm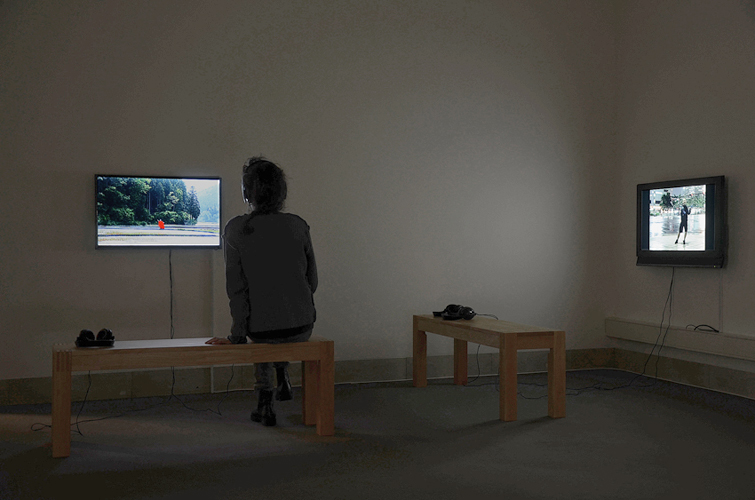 Kitsune, Centre d'art "Galerie der Stadt Sindelfingen", 2016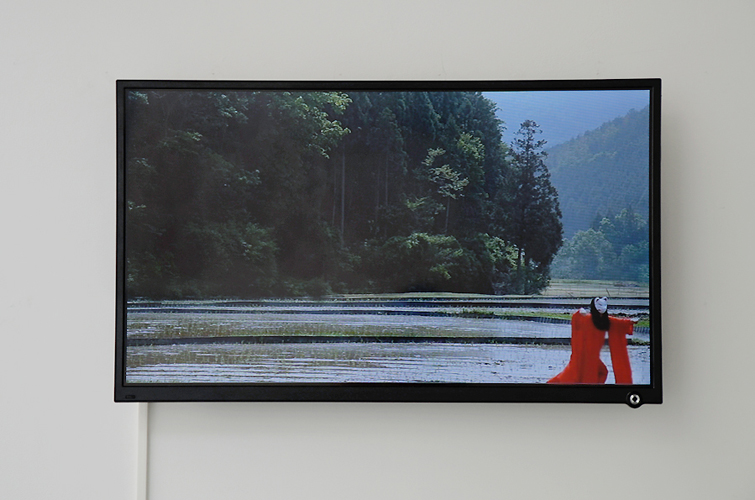 Galerie Esther Woerdehoff Paris, 2012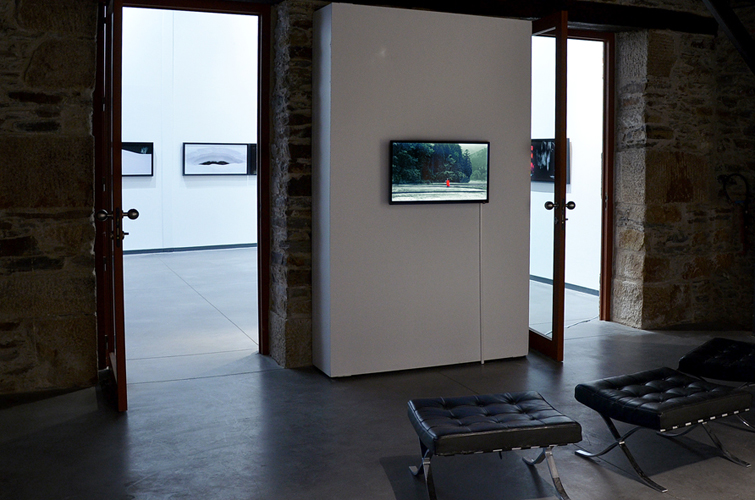 Dispositif Kitsune à l'Atelier, espace d'art contemporain de la ville de Nantes, 2014

Edition 97,5 x 35,5 cm, « stills » photographique de la vidéo, 2010/2012 jet d'encre pimentaire sur papier Hahnemühle, 25 ex.